Mint Soap Bar with Dead Sea Salt 3.4oz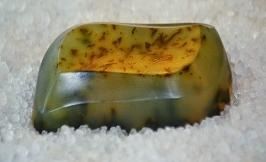 Mint Soap Bar with Dead Sea Salt 3.4oz
An all-natural mint cleansing soap bar. Mint helps calm skin that's itchy or infected and acts as an astringent to prevent your pores from clogging up, resulting in fewer pimples and clearer skin. A lovely blend of frankincense, myrrh and tangerine oil to calm the skin, fight acne, and help prevent the signs of aging. Soap has a nice lather to help remove makeup and clear the pores.
Directions: For best results lather under warm water then wash as needed.
Ingredients: Dead Sea salt, Fresh Mint Leaves, Frankincense, Myrrh, Tangerine Oil, and Vitamin E, Organic Coconut Oil, Organic Palm Oil, Glycerin (kosher, of vegetable origin), Purified Water, Sodium Hydroxide (saponifying agent), Sorbitol (moisturizer), Sorbitan oleate (emulsifier), and Soy bean protein (conditioner).
Warning: For external use ONLY. Keep products out of children's reach as they may look and smell appealing to small children.
A cruelty free product suitable for vegetarians and vegans.