Mint Dead Sea Salt Body Scrub 8oz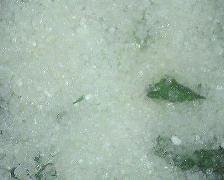 Mint Dead Sea Salt Body Scrub 8oz
Dead Sea salt and mint scrub will help cleanse your skin of free radicals that cause acne, eczema and other skin disorders. Exfoliate the skin, reduce visibility of fine lines, clear blemishes, and minimize pores. See a difference after one application. This product is packaged in a reusable, Eco friendly, aluminum screw top tin. All natural ingredients, cruelty free, and vegan friendly.
Mint has anti-oxidant ingredients that can help in so many ways:
· Anti-inflammatory properties of mint protect the skin from physiological damages
· Proven to help cure black heads
· Helps cure acne
· Hydrates and rejuvenates the skin
To guarantee freshness please store product in a cool place, and stir often to ensure oils are distributed evenly throughout container. Because there are no chemicals or preservatives, the shelf life is limited!
DIRECTIONS: Moisten hands with water or lotion and take desired amount of scrub and apply where needed. Rub in a circular motion for about a minute and rinse off with warm water then towel dry. Try avoiding area under the chin as the skin is more delicate.
Ingredients: Dead Sea Salt, Grapeseed Oil, Fresh Mint leaves, Frankincense, Myrrh, Tangerine, Vitamin C and Vitamin E Essential Oils.
Warning: For external use ONLY. Avoid contact with the eyes. Be cautious while bathing to avoid falls as products contain oil and may cause slipping. Keep products out of children's reach as they may look and smell appealing to small children. Area treated may sting after application but will fade when product is rinsed off. Just the Dead Sea working it's magic.
A cruelty free product suitable for vegetarians and vegans.