All Natural Deodorant with Dead Sea Salt Minerals and Probiotics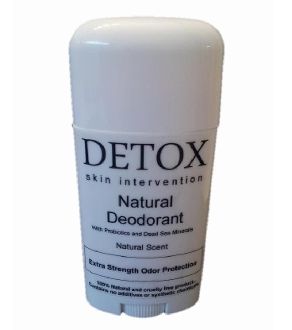 All Natural Deodorant with Dead Sea Salt Minerals and Probiotics
2.6 oz All natural, NON-TOXIC, aluminum free, deodorant with Dead Sea Minerals and probiotics help improve the balance of bacteria on your skin. This product is made without additives and/or synthetic-chemicals. Our ingredients were developed to help control body odor by using organic coconut oil, acting as an anti-bacterial to kill the bacteria that causes odor, organic arrowroot powder to absorb moisture leaving you to feel fresh and dry all day, and organic shea butter for maintaining healthy skin.
Directions: Apply to under arms only, apply two strokes under each arm, apply to dry skin as needed
Ingredients: Organic coconut oil, organic Shea butter, organic beeswax, organic arrowroot powder, organic baking soda, vitamin E, aloe vera oil, Dead Sea minerals, lactobacillus acidophilus, bifidobacterium bifudum, L. helvectius, citrus pectin.
Warning: For external use ONLY. Keep products out of children's reach as they may look and smell appealing to small children.
A cruelty free product
UPC 726670501035